Technology
BOGE unites outstanding quality with innovative technologies in the development of its compressed air products. Technological progress, high efficiency and durability are the core characteristics of our air compressors, and lead to more efficient compressed air solutions. That's what we at BOGE call "innovative quality". In addition to this, we are driven by your particular needs and requirements.
Daniel Mittag, Product Manager Driven to change the established? We ask this question about every development that we push forward.
Self-produced, freely combined: BOGE nitrogen generators N 8 P to N 64 P
Innovation, flexibility and a high degree of purity characterise our nitrogen generators. You no longer need to depend on suppliers.
Thanks to their pioneering modular systems, nitrogen is produced according to specific demand, which saves cost for the user.
The nitrogen generator has a master channel with one to eight modules. You can extend it for another three parallel channels, again with one to eight modules. Flexibility is our top priority, which is why you can always customise your nitrogen generation within the parameters of:
Performance
Delivery quantities (1.3 to 265.8 Nm³/h)
Degree of purity (up to 5.0 i.e. 99.999%)
Efficiency (maximum efficiency is ensured thanks our pressure swing adsorption process)
Modern oxygen production with BOGE: flexible and demand-dependent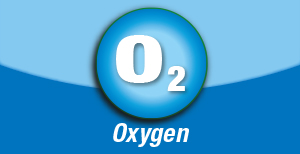 With BOGE, produce your own pure oxygen and become independent of external suppliers.
Maximum efficiency: our pressure swing adsorption process produces oxygen with optimum efficiency.
These high quality features characterise our oxygen generators:
Purity: The produced oxygen has a stable purity of between 90 and 95 percent
Flexibility: Delivery quantity of 2.49 to 46.8 Nm³/h and adjustable oxygen purity
Risk-free: Storage in high-pressure vessels is no longer necessary
Economical: There are no losses through evaporation and, due to our high quality components, little maintenance is required
Oil-free piston compressors with the PO Series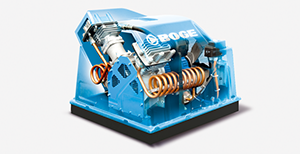 The new oil-free PO Series piston compressors are characterised by minimum wear, optimum accessibility and an extremely compact design.
Our PO Series combines durability with high-performance. With this Series we have developed highly efficient, low-maintenance and compact air compressors with a low noise level. Due to its modular design concept, diverse and targeted results can be achieved.
Completely oil-free compressed air
Sensitive industries and areas where oil-free compressed air is essential will benefit from our continued efforts to optimise even the smallest of details in our oil-free compressed air systems. In our PO Series, the complete absence of refrigerant throughout the system enables entirely oil-free compressed air production. The alternative to the refrigerant? Specially coated pistons and piston rings, with specially designed cylinder liners and hermetically-sealed bearings.
Other advantages of the PO Series are:
The narrow and compact lightweight design offers multiple applications
The light and enclosed cooling air-flow hood made of heat resistant ABS plastic contributes to improved safety at work. It fully complies with EN 1012-1 "Safety Requirements for Compressors"
Due to a design that is focused on low wear, the compressors are virtually maintenance-free. For example, we have minimised the low piston speed to 3 m/sec vibration – thereby lowering temperature and wear. The piston and cylinder benefit from this development and have a longer life cycle
The PO Series meets the requirements of the RoHS Directive (2002/95/EC) *
* RoHS = Restriction of (the use of certain) Hazardous Substances
28 different air compressors for individual requirements
A total of 28 different variants within the PO Series are available. Four examples are:
PO 8 L: "PO" stands for "Piston Oil-free" and "L" for "Line". This is, with this base unit, an oil-free, direct-coupled piston compressor with an engine output of 8hp
PO 8 LR: This compressor has a separate storage container for the compressed air (R = Receiver)
PO 8 LDR: This is an oil-free piston compressor in combination with a compressed air tank and a dryer (D in this case stands for Dryer)
PO 8 LTR: This compressor is a twin system (T = Twin) with a separate container
Variants of the PO series in different industries
Typical industries where our oil-free piston compressors are used:
The medical and pharmaceutical industries, which have relied on BOGE quality compressed air for many years
Craft and paint shops, where compressed air must meet the highest quality standards and be absolutely free of oil
The food industry, for example when precisely matched amounts of compressed air are required for filling processes
In water treatment, where oil-free compressed air is used, for example, during the aeration or "bubbling" of air to support bacteria growth
BOGE airend
The BOGE airend is the most efficient one we have ever created. Our engineers have specially developed a 5:6 screw profile for the rotors.
With production of the compressor taking place at our plant in Grossenhain near Dresden, it really is our traditional German engineering at its finest.
The BOGE airend combines efficiency with silent running and longevity. This is made possible by individual, innovative components developed in-house:
Thanks to the innovative rotors with five teeth on the male rotor and six on the female rotor, there is only a small pressure differential between the chambers
Low power losses thanks to the silky smooth performance and the optimal design of the power ranges
An axial suction guarantees a higher volumetric efficiency
The comparatively much lower rotational speed prolongs the lifecycle and reduces not only the sound-levels but also vibrations (and consequently, efficiency losses) caused by splashing
Efficiency losses are minimised by the precise manufacturing tolerances
Durability: The largest possible high-quality bearings are chosen, which doubles the lifespan of the bearing