Wednesday, January 22, 2020
Screw compressor range with a wide range of variants
BOGE offers C-2 compressors as machines with compressed air receivers – and for the C-series up to a capacity of 22 kW for the first time.
More compact, easier to operate and quieter than ever before: BOGE introduces the new generation of its screw compressors from the popular C-series. The C-2 compressors from the Bielefeld-based compressed air expert are available as a complete solution ready for connection together with compressed air receiver and dryer, as well as in a standalone version for larger complete systems. The machines are compact in design and, thanks to their easily accessible components, particularly maintenance-friendly and ergonomic. Fitted with a sound insulation hood as standard, the new C-2 compressors are once again quieter than their predecessors. BOGE has given all versions of the machine an elegant, uniform design with high recognition value – but watch out, appearances are deceptive: the range of individual configuration options is huge.
In summary: BOGE has optimised its popular C-series all round. And what about the long version? Well, what ends up looking so elegant, modern and uniform on the outside, is more diverse than ever before on the inside. BOGE offers its new C-2 compressors belt-driven, directly coupled, frequency-controlled and also directly coupled at the same time in the same casing. Thanks to a sound insulation hood that is built in as standard, all compressors are even quieter than before. With optional super-soundproofing, the noise level is reduced by even more decibels. While the C-2 compressors are fitted as standard with a high-performance IE3 motor, efficiency is increased to new best values as required thanks to an IE4 motor.
 From 7.5 kW, the compressors are available with frequency-controlled fans: meaning the cooling capacity can be adapted optimally to the environmental conditions. A dryer can also be integrated across the entire series – and a control system ideally adapted to customer requirements. Users have the choice between the basic control and the high-end focus control 2.0 version.
Plug-and-play: ergonomic and user-friendly
Regardless of which extras are required, it works the same for all users: with the machines from the new C-2 series, you obtain a complete compressed air station as a plug-and-play solution in the smallest space, whether without or – for the first time ever in this series with a performance up to 22 kW – also with a receiver. BOGE has ergonomically optimised both installation versions and designed them to be particularly user-friendly: the control panel has been built directly into the front plate or angled, depending on the version. Control cabinet, belts and all other maintenance parts are accessible thanks to plates that are easy to remove.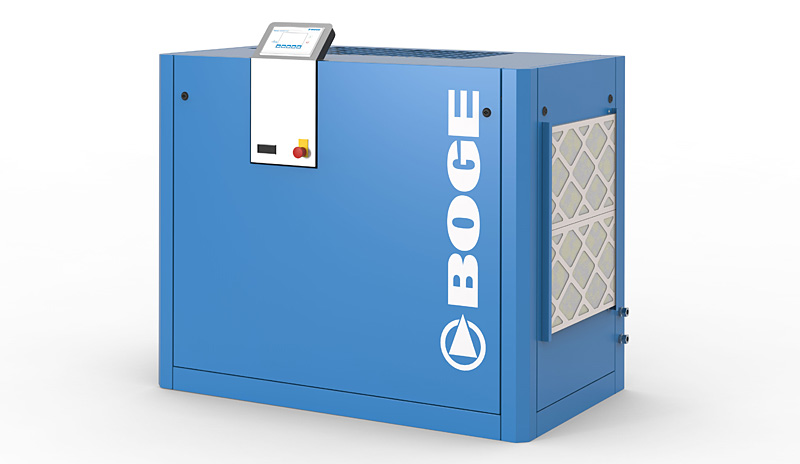 The versatile C-2 range is also available as a super-soundproofed standalone floor-mounted machine on a basic frame system.
About BOGE
As one of Germany's oldest manufacturers of compressors and compressed air systems, BOGE KOMPRESSOREN Otto Boge GmbH & Co. KG offers 111 years' experience. The company is also one of the market leaders. Whether for turbo compressors, screw compressors, piston compressors, scroll compressors, complete systems or individual devices, BOGE meets the most diverse requirements and highest standards, with precision and quality always at the forefront. The family company which operates internationally has a workforce of 880 employees and is managed by Wolf D. Meier-Scheuven and Rolf Struppek. With its numerous sales offices and subsidiaries, BOGE offers its international customers comprehensive services and supplies its products and systems to more than 120 countries worldwide.
Company contact
Ina Rockmann • BOGE KOMPRESSOREN Otto Boge GmbH & Co. KG
Otto-Boge-Strasse 1–7 • 33739 Bielefeld
Tel.: +49 05206 601-5830
E-mail: I.Rockmann@boge.de • Internet: www.boge.de