Donation or supply at cost price in Germany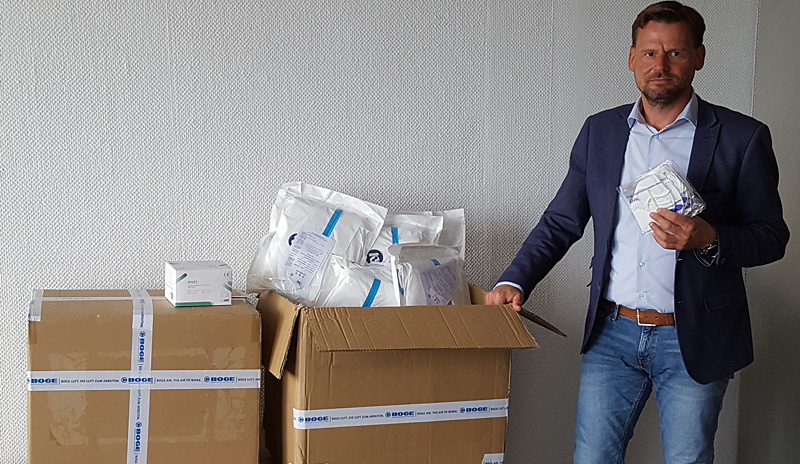 BOGE has been able to source personal protective equipment from China through its subsidiary in the country. The company has provided several thousand items either at cost price or as a donation to medical facilities. Michael Rommelmann, Senior Vice President Production & Engineering at BOGE, is pleased to receive the delivery.
Compressed air specialist BOGE has made use of its business contacts in China to obtain personal protective equipment for clinics and GPs. 34,000 face masks in different designs and 1,000 medical suits were supplied by BOGE to the Klinikum Bielefeld clinic and the University Hospital Würzburg at cost price. The company donated a further 3,400 breathing masks and 250 protective suits to mainly local doctors. Medical supplies for protecting front-line workers against infection with Coronavirus are currently difficult to obtain anywhere in the world, but BOGE has been able to organise a delivery through its own subsidiary in China.
Medical masks and suits able to protect the wearer against infection with Coronavirus SARS-CoV-2 are manufactured to a large extent in China. When they do become available, they are often sold at inflated prices or transportation to get them where they are required is extremely difficult to organise as most air traffic has been suspended. In view of the ongoing situation, BOGE CEOs Wolf D. Meier-Scheuven and Rolf Struppek turned to their professional contacts in the country: for well over 20 years, BOGE has run a Chinese sales and distribution unit located in Shanghai and its co-workers were delighted to take over communications with local suppliers and authorities. Initially, the items were only intended for its own co-workers, however BOGE in Germany continued to receive requests for help in sourcing more personal protective equipment. "We made a decision early on to increase the order quantity for face masks at our own risk, and informed our Chinese counterparts of our choice. We also ordered medical protective suits," explains Wolf D. Meier-Scheuven. "So we received around 45,000 face masks and over 1,000 protective suits via Shanghai, Incheon (Korea), Anchorage, Louisville (USA) and Cologne here in Bielefeld. A further 10,000 masks are still on their way to us," adds Rolf Struppek.
BOGE provided 30,000 face masks and 1,000 protective suits at cost price to the University Hospital Würzburg, as well as 4,000 masks to the Klinikum Bielefeld clinic – where the company had previously donated 400 masks. A further 3,000 masks and 250 protective suits were also provided to the "Initiative Bielefelder Hausärzte", an association of 131 family doctors in Bielefeld. BOGE made no profit providing this personal protective equipment – it was important to the company that doctors and professionals were able to protect themselves sufficiently to ensure that healthcare could continue: "We're very happy we've been able to help provide scarce resources and do our bit for our health services in these difficult times," explains BOGE CEO Wolf D. Meier-Scheuven. BOGE prioritised contracts from the medical industry back in March, and has increased its manufacturing of compressors which produce medical compressed air.
About BOGE
As one of Germany's oldest manufacturers of compressors and compressed air systems, BOGE KOMPRESSOREN Otto Boge GmbH & Co. KG offers 111 years' experience. The company is also one of the market leaders. Whether for turbo compressors, screw compressors, piston compressors, scroll compressors, complete systems or individual devices, BOGE meets the most diverse requirements and highest standards, with precision and quality always at the forefront. The family company which operates internationally has a workforce of 800 employees and is managed by Wolf D. Meier-Scheuven and Rolf Struppek. With its numerous sales offices and subsidiaries, BOGE offers its international customers comprehensive services and supplies its products and systems to more than 120 countries worldwide.