Experienced Professionals
Are you seeking a new challenge, or want to take the next step in your career? At BOGE, you'll find a number of opportunities for pursuing your chosen career path. Set new goals and achieve them with us. Take a look at our current vacancies for experienced professionals.
Go to current vacancies
Careers at BOGE
At BOGE we pride ourselves on understanding and catering to individual ambitions, goals and talents. In doing so, we cooperate with you to find the right path to a successful future. Become one of the many talents at BOGE, learn from our know-how and contribute your own!
Why BOGE?
At BOGE we represent more than 110 years of tradition. When it comes to the development of products and services, we think long-term – and the same applies to our employees. While you help fulfil the exacting requirements of our international customers, we offer you a range of professional development opportunities and lay the foundation for long and fruitful cooperation.
We offer you:
Compatibility of family and career
National and international career prospects
Friendly, tight-knit working environment
Individually tailored support
The chance to work on innovative products
Flexible working hours
Flat hierarchies
You don't need to take our word for it – take a look at the of the success stories of our employees.
Development programmes for experienced professionals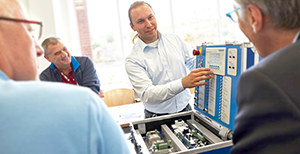 Is it important to you to further your education and qualifications on an ongoing basis? Then BOGE is the place for you: We offer a diverse choice of professional development programmes and in-house seminars. Plan your career with us and grow your potential!
We at BOGE run a commercially successful operation – all over the world. As a member of the BOGE family, you can benefit from the international character of the firm: Get to know colleagues from different countries at the "International Summer Camp", or collaborate with us to plan your own assignment at one of our international subsidiaries!